Operational Health Checkup
Get a Bird's Eye View Status Check on Your Operations
OHC is a comprehensive performance examination process that IdeaRX recommends to be done periodically to assess and control the situation of procurement, sales and stocks of a Hospital factoring in its individuality.
With our highly expert team and advanced tools, we provide a structured clinical report that will empower & enable the Hospital management to take complete control of their procurement process. This is summarised into a Scorecard with which the management or the doctor will be easily able to determine what goes right and what might need attention.
IdeaRX also suggests easily implementable action items and plans for improvement and growth.
Research Sources & Methodology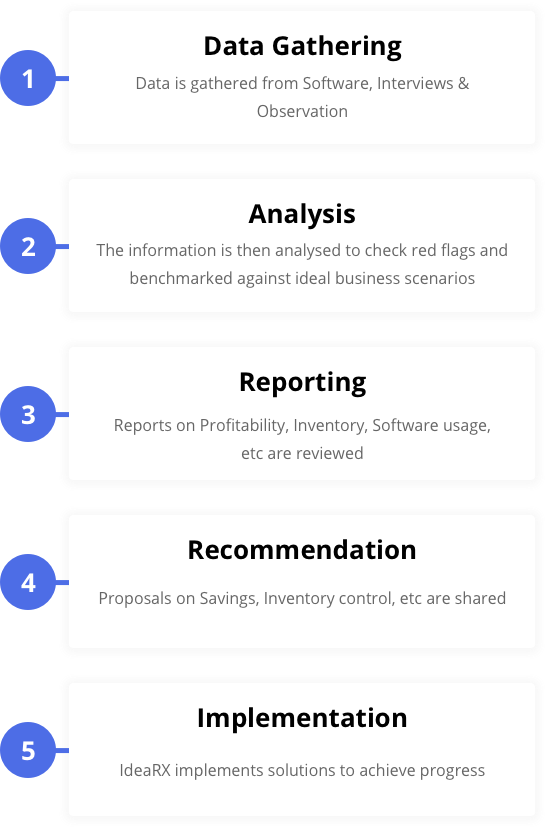 IdeaRX's technology backed procurement solution has helped us save more than 15% on our purchases last year. IdeaRX is now helping us to bring down our inventory levels considerably and hence improve our cash flows significantly. With IdeaRX, we hope to soon completely outsource IT and Supply Chain for our entire network of hospitals. Apart from bringing in huge monetary value, we believe it this will help us focus even more on the single most important area of a hospital: "patient care"

Anosh Agarwal
Dr Agarwal's Eye Hospital

"I started procuring few surgical items from IdeaRX after they provided me with some incredibly low pricing. Now, they handle my entire purchases. I am easily buying the same items and saving close to a lakh a month. They are a professional team who can deliver results immediately."

Dr Elango
F.O.R Ortho Hospital, Chennai